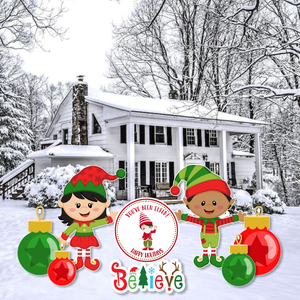 A holiday twist on the classic concept of BOO'ing someone... Elf'ing is sure to bring excitement and cheer to friends and family at a time when everything else is canceled! Send this to a friend, neighbor or family member and we'll encourage them to pay it forward. As a bonus, we will donate $5 for every ELF setup to the Bethlehem Inn. THIS IS A RENTAL FOR 24 HOURS.
PLEASE INDICATE A FIRST AND SECOND CHOICE OF DATES YOU WOULD LIKE THIS SET UP AND WE WILL PUT YOU ON THE INSTALLATION CALENDAR.
*We could also add the words "I'm Back!" to this setup for an extra $10 if you'd like to welcome your Elf on the Shelf back in style!